Garden Design Shows

Taking part in exhibitions as a garden designer – sense or nonsense?
By former student Sabine Friedrich
Should you take part in a garden design show? The answer is simple: yes, but … … only in cooperation with a landscaping company.
But let's start with the 'yes, I would take part in an exhibition and have done'. My advice is to first, find out which exhibition might be the right one for you.  You can find suitable events online at sites like the RHS or Exhibitions.co.uk. Where will you find your future clients? At a 'consumer exhibition' where all parts of daily life are shown, or at a garden show, where only everything around gardening is shown? Garden shows attract people who are interested in gardening, but consumer fairs can bring you those who do not intend to look for a garden designer but are attracted by your stand.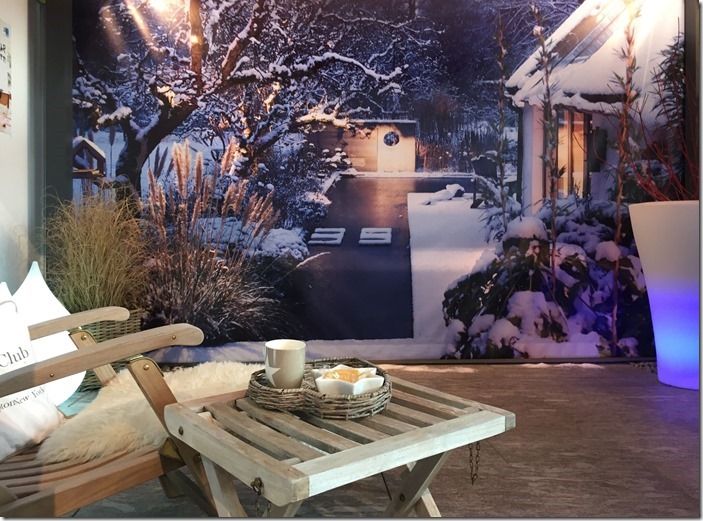 Attracting people to your stand is the most critical issue if you plan to take part in the exhibition. But how? Think about what your clients might need – that's what they want to see. Over the last 4 years I showed a complete terrace, including floor, planting beds, trees and/or flowers, furniture and decoration (up to the coffee mug or wine glass), with a large picture of a garden adjoining the terrace. Creating a feeling of how people can live on this terrace will make the visitors envy the terrace (yes, they even tried the deck chair and asked where to buy the blanket) – and the garden in the background. Do you remember the IKEA stores? They do the same: showing complete rooms with all details – and people have a seat at the sofa with cushions and blankets and look into the kitchen cabinets with all the dishes. And as everybody knows: you always leave IKEA with more things in your cart than planned before…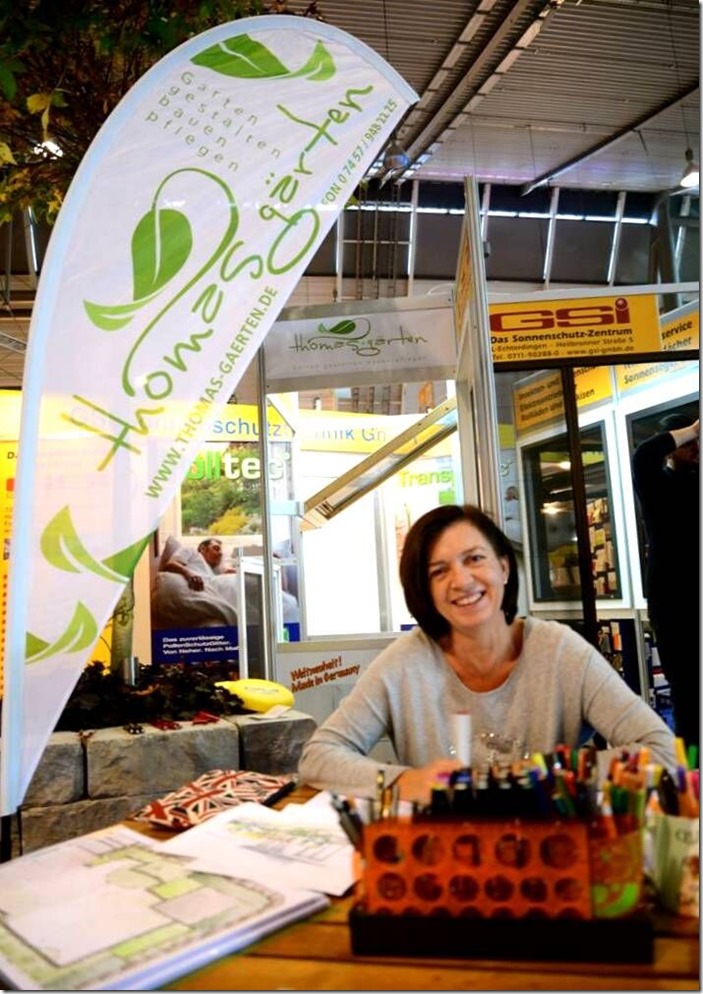 So, when people look at your stand and maybe even come closer to see the details, how do you find out if they are potential customers? Just ask if they are already gardening, whether on a balcony or even in a garden. You will quickly find out if they are already experts with their own garden and just looking for new inspiration or completely fresh in gardening and thankful for any advice or help or even a complete garden design. For the latter it is always good to have pictures of your work at the stand. I always put the best of my work in a folder, ready to be shown during conversation.
Another possibility to attract people is to have some action at your stand. One year I set up a garden table and chair and brought lots of printed garden plans (in black and white) and all my markers. Just sitting there and colouring the plans made people stop and watch and ask questions. It took me hours to complete a plan (to be honest: I never intended to do this for 'real work', I was just practising my drawing skills…) but I gave lots of business cards to possible customers. Exhibitions are time consuming – nevertheless you should be present at your stand most of the time.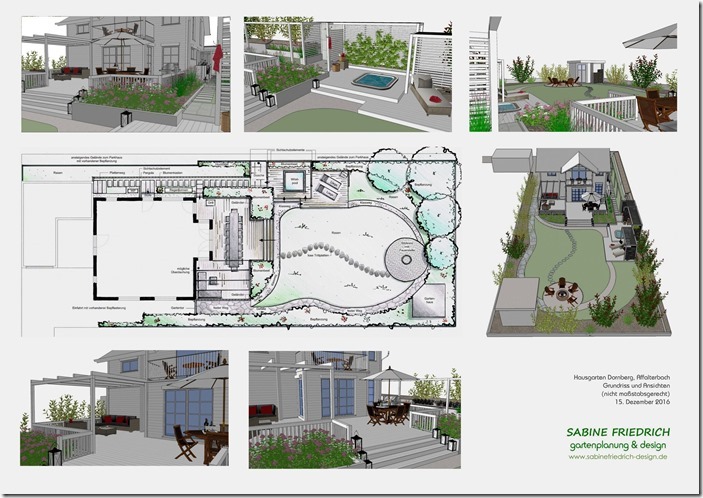 The first hour after opening and last hour before closing are usually quiet – so if somebody can represent you, this is the right time. But be sure that your representation acts in your direction and is able to answer questions! Never leave your stand unattended -it shows a lack of interest to the visitors (and some parts will be gone very quickly…) Taking part in exhibitions is quite expensive.
Garden Design Show: Revenue
So, what about the revenue? Usually, you don't get lots of inquiries or orders shortly after the exhibition. Exhibitions are made to make yourself a name. People should remember you. Some might get in contact with you only after several months – when they face a problem or a question and remember the person at the exhibition, who showed them… and told them… Yes, that's the one they could ask!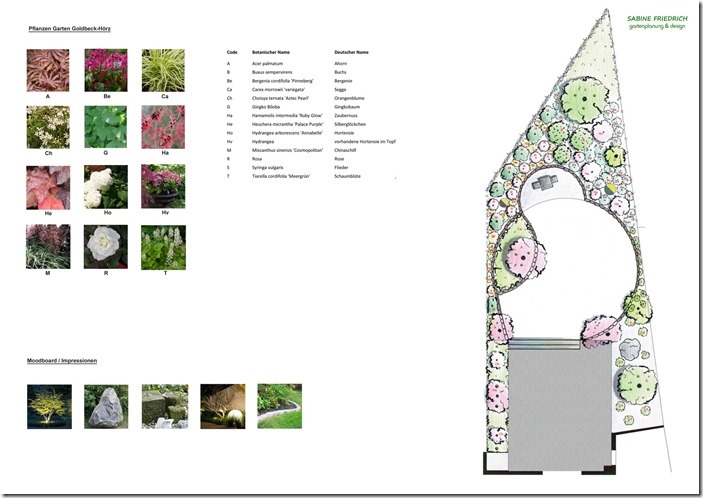 What was the name of the company? They don't remember, but hopefully they kept your business card they got from you during your conversation at the exhibition and get in contact with you. Now, something about the 'but'. Some of my clients who found me on the exhibition are 'DIY' landscapers. They are fully happy with a detailed plan and some views. Some more are doing several works by themselves (e.g. planting) but need help for the heavier works (e.g. retaining walls, paving, …). And some want to have everything done by an expert. What a luck if you can satisfy all of them! So, this is the thing about doing your stand in cooperation with a landscaping company. With the stand the landscapers can show their knowhow and get potential customers.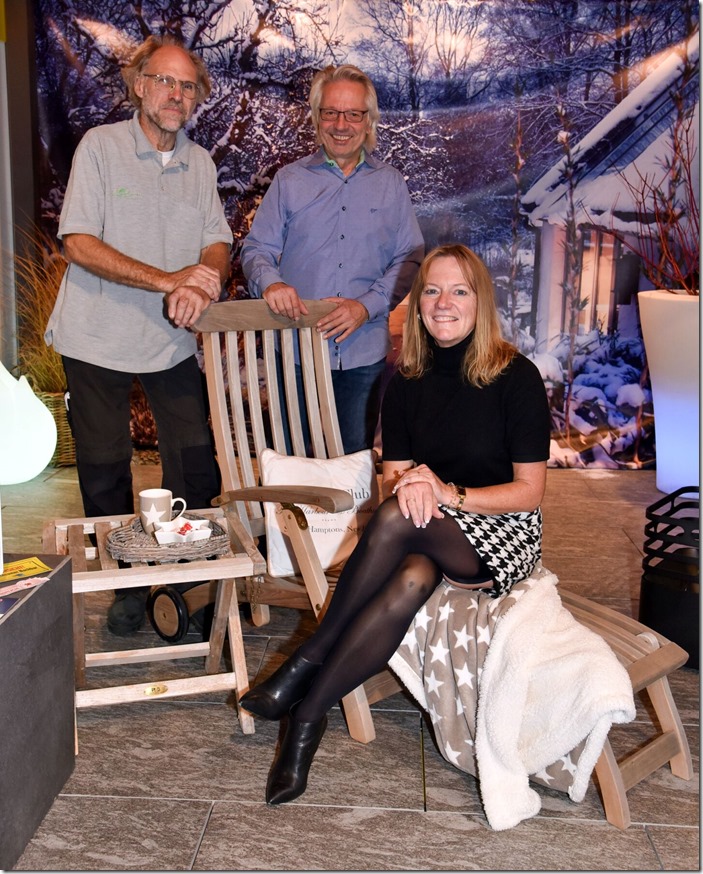 Their job will be much easier if their clients already have a plan or a view and know what they want – because they came from you! And don't forget the aspect of managing the stand full time – you can share this as well as you can share the expenses of taking part in the exhibition. After taking part in the same exhibition over 5 years now my summary is:  I'm ready for the next one!
Sabine Friedrich
Dipl. gardendesigner
Gustav-Mahler-Weg 1
70771 Leinfelden-Echterdingen
Germany
phone +49-711-7674088
Fax +49-711-7674089
mobile +49-173-9532877
www.sabinefriedrich-design.de
info@sabinefriedrich-design.de