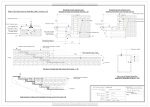 Construction, Business and Professional Practice Course for Landscape and Garden Designers
An Advanced Garden Design Course to help develop your business and fill in the knowledge gaps.
This is a mentored online course, for working landscape and garden designers, who lack the confidence or skills necessary to produce professional construction, business, technical, planning, safety and professionals practice documentation. Some garden designers don't know how much to charge for their work, while others are struggling to set up and run a successful business. If  you are looking to build you business and improve your professionalism, then the Construction Business and Professional Practice Course is for you:
Are you a working designer who doesn't have the confidence to produce your own detailed construction drawings?
Do you need to learn how to use the Vectorworks and SketchUp Make CAD package?
Can you produce detailed levels and drainage plans?
Do you need help writing a design specification?
Do you know how much you should be charging clients and when?
Do you understand how to submit planning and building Regs to local authorities?
Do you need help preparing contract documentation?
Can you estimate accurately the cost of your schemes prior to going out to tender?
Can you produce detailed tender documentations and oversee the tender process?
Can you supervise and oversee the construction and building?
Do you have the appropriate health and safety knowledge require to run a landscape design business?
Do you want to become a full member of the Society of Garden Designers (SGD) the Association of Professional Landscape Designers (APLD) British Association of Landscape Industries (BALI) or the Association of Professionals Landscapers (APL) but lack some key skills?
In addition to the above this courses will help you develop your business, teach you how to sell, deal with clients, generate leads, start a website, teach you how to market and advertise your business and become social networking guru. 
How it Works
You work and learn on your own projects while doing the course. Unlike the Diploma course the CBP course has all the lessons available at once so you can work through them at your own pace. This allows the student to concentrate on studying the areas that are most important to them first. For example if you need to design a drainage system for a terrace area with soak-away then you can take lecture GD1109 – GD1111
If you want to produce a set of cost estimates for a client you would look at GD1208 Or if you wanted to draw up full contact document specification and tender documentation you would take GD GD1206, GD1204, and GD1102
Mentoring & Tuition
This is a mentored course, allowing students daily access to Duncan Heather, who will act as their mentor on their own design projects.  He will help with every aspect of your business covering everything from how much to charge, to checking drainage plans and writing specification documents.  Students will get lifetime access to the online classroom and updated lectures as they come online. The course is designed to be completed within a 12 month period. You receive tutored support via our online classroom and phone App, so you can ask questions both in the office or while on site. (Usually getting a reply the same day). You will also have 12 months mentoring and access to our monthly webinars so Duncan can assess your assignments and discuss aspects of your business and progress on the course.
Awards & Assignments
To be awarded our Certificate of Completion, you need to complete a series of detailed CAD construction drawings (See GD600) with full specifications as well as submit a full working project of your choice with full construction details, contract documentation, and full specification documentation.
Modules & Lectures
 
GD1100

Tennis Court Construction
Swimming Pool Design and Construction
Contour Manipulation
Standard Draft Specification
Steps and Ramps
Setting Out Plans


Piped Drainage and Soak-a-Ways
Specification Writing
Plan of Works
Surface Water Drainage
Irrigation Design
Land Drainage

GD700

Materials for Walls
Wall Design and Workmanship
Timber: The Material
Timber: Construction
Formal Water Gardens
Introduction to Stone



Garden Paths and Drives
Fences: Design and Function
Concrete for Garden Design
Technical Drawing
Levels, Survey and Setting Out
Natural Ponds & Lakes

GD1200

 

Professional Practice and Fee Scales
Contract Law
Marketing for Garden Designers
Setting up a Design Business
How to Conduct the First Client Meeting

Costing Projects
Planning and Consents
Written Communication for Professional Practice
Telephone Technique
Site Safety and CDM Regs 2015

GD1000

 

How to Build a Web Presence part 1
Anthony Paul MasterClass
John Brookes MasterClass

Luciano MasterClass
How to Build a Web Presence part 2
Social Media Marketing For Garden Designers

GD600

 

Free Standing Rendered Wall
Terrace and Retaining Wall
Introduction to the HLP Exercises
Steps & Arbours
Terrace, Pergola & Water Feature

Formal Pond
Raised Bed & Brick Pergola
Raised Brick Pond
Timber Jetty
Deck, Pond and Patio

GD1300

 

Introduction to Vectorworks 2017 for Landscape & Garden Designers 
(Click here for details)

 SketchUp Make for Landscape and Garden Design

NB. This course is tax deductible.
Courses Launch Date: Immediately on Sign up and start straight away 
Cost:
£4300 +VAT  
with Vectorworks tuition
Tutor:
Duncan Heather
Structure:
Online course with on-demand video lectures, online classroom, Marked Assignments and personal mentored tuition, feedback and support. Coursework is based on your own current design projects. You work and study at the same time and work to your own timetable accessing lecture on-demand to suit your requirements
Duration:
Approx. 600 hrs. of study
Student Profile:
Working Landscape and Garden Designers.
Additional skills required:
2D Vectorworks